Chicken wings are very popular. But did you know that you can have another tasty treat that packs lots of flavour but is also meatless? These cauliflower wings are the perfect side to go with your vegetarian meal. They don't exactly taste like chicken but they're so good that even the most avid chicken-eater will be coming back for seconds. Checkout our BBQs and Outdoor Living heaters, pizza ovens, and more, to make sure you take advantage this summer.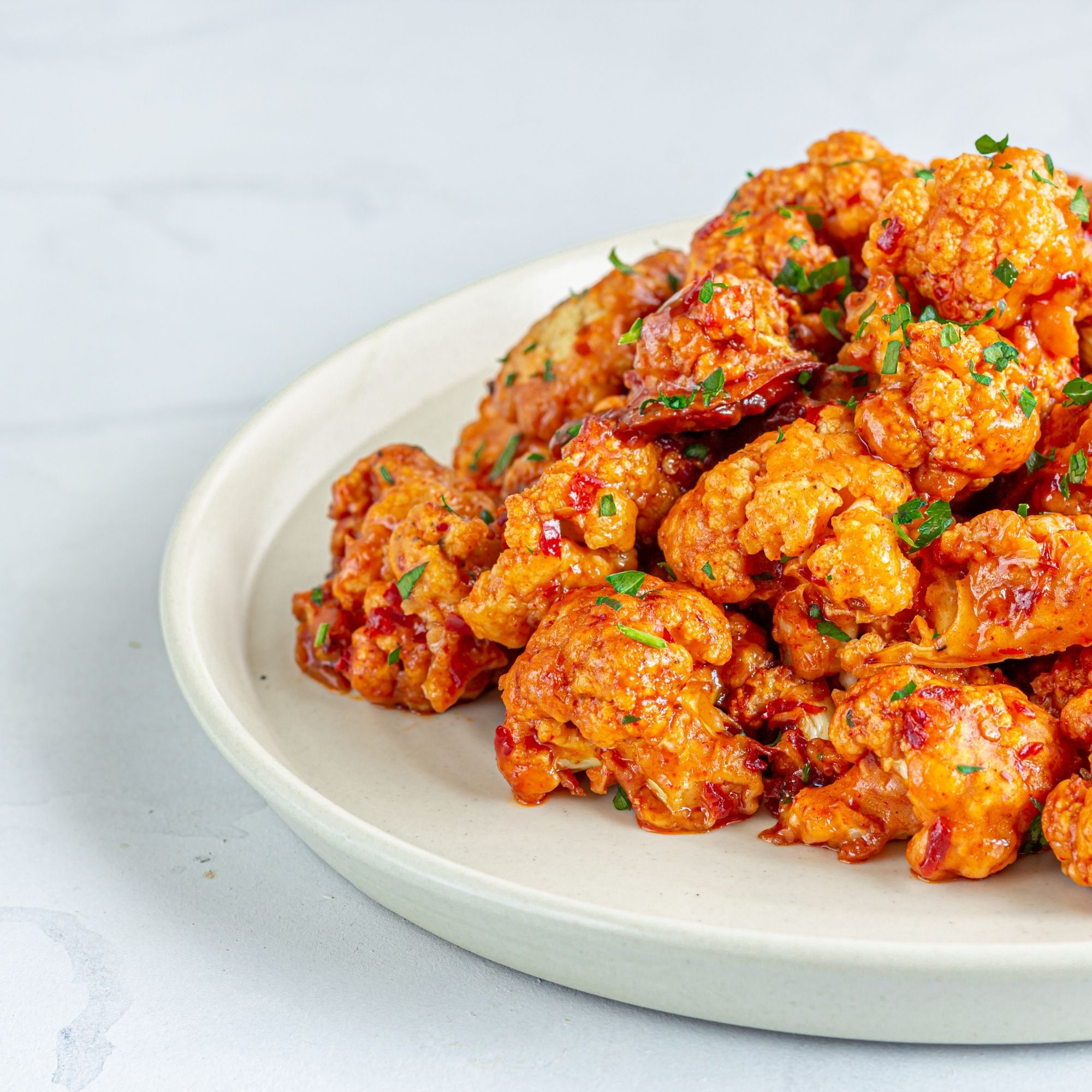 EQUIPMENT
Knife
Whisk
2 Mixing Bowls
Tongs
Barbecue
INGREDIENTS
1 large head of cauliflower
250ml water
180g plain flour
1tbsp garlic powder
1tbsp onion powder
Pinch of salt
500g panko breadcrumbs (These can be substituted for regular or gluten-free breadcrumbs)
Oil
500g BBQ sauce (if you want this to be a vegan snack, check the ingredients of this sauce)

Method
STEP 1
Using a knife, remove the leaves from the cauliflower. You can also remove some of the stems here but keeping some of these on can make it easier to hold it when you are eating.
STEP 2
Chop the cauliflower into smaller pieces so that they resemble wings.
STEP 3
In a bowl, whisk the water, flour, garlic powder, onion powder and salt to make the batter.
STEP 4
Place the breadcrumbs in a separate bowl.
STEP 5
Add the cauliflower to the bowl with the batter. Gently mix in with a spoon to fully coat. Try not to mix too hard or the cauliflower will fall apart.
STEP 6
Tip the contents of this bowl into the bowl with the breadcrumbs, and gently stir to coat again.
STEP 7
Spread some oil onto the grill on a heated barbecue and place your cauliflower wings onto the heat to cook. These should remain on the grill from approximately 10 minutes, turning halfway though.
STEP 8
Remove from the heat and cover them with BBQ sauce. This can be done by placing them in a bowl with the sauce and covering them, or by brushing the sauce onto them individually. Brushing takes more time, but the wings will be crispier. Either way, they will still taste delicious!
STEP 9
Add the sauce-covered wings back to the barbecue and grill for another 5-10 minutes until the sauce is caramelised.
STEP 10
Serve and enjoy!
These BBQ Cauliflower Wings are the perfect addition to your family night, and are great if you a vegetarian as well. If you don't have a BBQ yet you can check out our full Appliances Delivered range. If you thought this blog was interesting and would like to be updated when we post similar content, then subscribe to our Appliances Delivered email newsletter. You can also check out our Facebook and Instagram, where we post regular content.
Recent Posts
Introduction to the World of MicrowavesMicrowaves, once a futuristic concept, have seamlessly integr …

In the realm of kitchen appliances, the American fridge freezer stands out as a symbol of spaciou …

To buy a wood-fired pizza oven is to buy a culinary masterpiece that has stood the test of time. …