It's hard not to feel a little left out when it comes to barbecues, especially for those of us with vegan or vegetarian diets. However, there's no need to feel left out. This meat-free burger barbecue recipe are sure to delight your taste buds. So, the next time you fire up your grill, oven or stove, try a few of these. You'll soon discover that you can have an amazing barbecue without consuming any meat. If you haven't yet bought that summer BBQ, then what are you waiting for? You can also check out our full range of outdoor living so that you make the most of those long summer nights!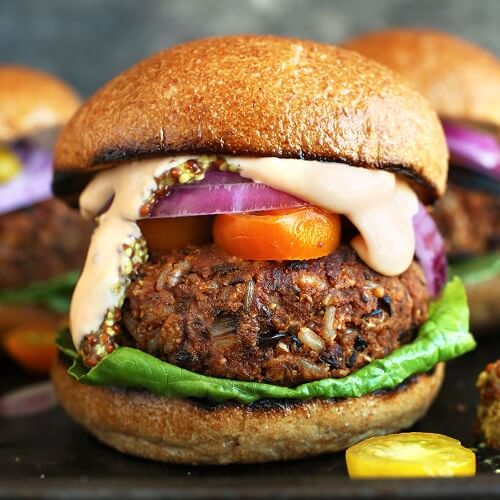 Veggie Burger
Ah, burgers. The staple of any great barbecue. But besides beef, there are plenty of meatless options too. Here is a mouth-watering vegan alternative to the beef burger.
Ingredients
Brown rice
Raw walnuts
Avocado oil
White onion
Chili powder, cumin powder, smoked paprika
Sea salt and black pepper
Coconut sugar
Cooked black beans
Panko bread crumbs
Vegan BBQ sauce
Method
You can follow this method if your brown rice isn't yet cooked. Otherwise, move onto the next step. Heat a skillet over medium heat. Once hot, add raw walnuts and toast for 5-7 minutes, stirring frequently, until fragrant and golden brown.
As the skillet heats, add oil and onion. Season with salt and pepper and sauté for 3-4 minutes, or until the onion is fragrant, soft, and transparent. Remove from heat and set aside.
Once the walnuts have cooled, add them to a blender or food processor with chili powder, cumin, smoked paprika, salt, pepper, and coconut sugar. Blend until a fine meal forms. Set aside.
Mash drained, dried black beans with a fork in a large bowl. Leave a few whole beans behind.
Mix all the ingredients thoroughly with a wooden spoon, then add cooked rice, spice-walnut mixture, sautéed onions, panko breadcrumbs, and BBQ sauce, and stir until a moldable dough forms.
Depending on the size of the burger, you can form 5 large patties (1/2 cup in size // amount as written in original recipe), or 10 small patties (1/4 cup in size // amount as written in original recipe). Line your 1/2 or 1/4 measuring cup with plastic wrap and pack it with flour to make the patties easier to form.
Using the plastic wrap edge as a handle, lift the plastic wrap out, and then slightly flatten the patties with your hands to form 3/4-inch thick patties. Place on a baking sheet or plate for grilling.
If grilling, on George Foreman Grills heat the grill and brush the surface of the grill with oil to simplify cooking. If not, heat your skillet until it is medium-hot
Once the skillet is hot, add just enough oil to lightly coat the bottom, then add the burgers - only as many as will fit in the pan comfortably. Otherwise, place the burgers on the grill and close the lid.
Flip gently after 3-4 minutes or until well browned on the underside. They aren't as firm as meat burgers, but they will hold their shape just fine. If the food is cooking/browning too quickly, reduce the heat. Cook the other side for three to four minutes.
Remove burgers from heat and let cool slightly, while preparing any other toppings/sides (such as grilling/toasting your buns).
Top burgers with desired toppings, or serve them as-is. Refrigerate leftovers for up to three days. Freeze/reheat accordingly.

Thank you for reading our blog post on veggie and vegan burger recipe - we hope it got your mouth watering as much as it did ours. Don't forget to visit our blog on barbecues and accessories to up your grilling game and ensure you have everything you need to make these recipes! Also, if you would like to receive product updates and offers then don't forget to subscribe to our email newsletter.
Recent Posts
Dublin's culinary landscape is rapidly evolving, and with it, the demand for innovative kitchen a …

When it comes to choosing a washing machine in Ireland, the options can be overwhelming. With a rang …

As the chill of November settles in, the buzz of Black Friday reverberates throughout Irela …