Coffee is a staple in many people's diets. It's an essential for a lot of workers just to get through each shift. The caffeine kick gives us the energy to keep going. But there are many different types of coffee and while every coffee comes from coffee beans, different coffee machines will go through a different process and will create a different coffee. So what kind of machine are you looking for? Read on and we'll help!
Types of Coffee Machines
Bean To Cup Machine
Bean-to-cup coffee machines have an in-built bean grinder and can prepare all kinds of hot drinks with ease, including Americanos, espressos and much more. They grind, press and brew the coffee, so are great machines for people who don't have the time, or would rather not grind the coffee themselves. These appliances even come with milk wands or sometimes automatic milk dispensers which add your milk for you. They are large machines and require a bit of room, but their size signals many opportunities.
Pump Machine
Pump machines brew espressos by forcing pressurised water that's near boiling point through finely ground coffee beans and a filter, using a pump. This produces a thick and concentrated shot of coffee. The steady flow creates a nice crema on top of the drink. Many machines use a steam wand that can froth additional liquids, such as milk, so you can enjoy other caffeinated drinks like cappuccinos. Espressos can be consumed as is or can be added to other drinks. They are the base of drinks such as cappuccinos, lattes, macchiatos, Americanos or many others. The list of possibilities are endless when it comes to these coffee machines. These machines are quick, taking under 30 seconds to produce your beverage. They are also quite large but there are plenty of ways to get creative with your coffee.
Filtered Coffee Machine
Filtered Coffee Machines run water through ground coffee using gravity. This brewing process is sometimes called 'drip' and it gives a wonderful flavour, although it takes a little longer than a pump machine. It also requires more coffee and water to use this process. Filtered coffee is consistent the whole way through instead of having various layers, like a pump machine espresso would have. The longer brewing time allows the coffee to absorb all of the aromas and flavours. These machines can take up to 2 minutes to produce so they may be less suitable for people who are rushing and want a quicker machine. They are smaller than bean-to-cup and pump machines, so will fit nicely on most worktops. Despite its small size, it provides mighty flavour.
Single Pod Coffee Machine
Single Pod Coffee Machines are perhaps the easiest to use. You simply place the pod of whatever coffee you wish to have into the machine, fill the tank with water, and press start. Easy! These pods come in a large range of flavours, including hot chocolates! Just make sure that the pods match the brand of your machine so that they fit. These machines also take up very little space on your counter, and very little time out of your day to make the coffee. Sounds pretty great, right?

Coffee Machine Sizes
Coffee machines come in a wide variety of shapes and sizes. Typically bean to cup and pump machines are large, and filtered coffee machines and pod machines are smaller and would be more suited to an environment that is limited with space. That being said, there is no 'one size fits all' approach to coffee machines so check your dream machine out to make sure it will fit before you purchase it.
Coffee Machine Capacity
Like the size, machines vary when it comes to the capacity of coffee it can produce before needing to be refilled. Pod machines usually have smaller tanks than other appliances and will have to be refilled more often. If you like to make lots of coffee, keep an eye out for larger tanks. Tanks can reach up to 1.5 litres on some models.
Colours
Dark colours are easier to keep clean, while bright colours can make the environment look bigger and gives a very modern look. Stainless steel is the most durable and will last longer than other materials and colours. Coffee machines can come in a wide variety of colours so there will always be something to suit your interior design preferences.
Other Considerable Features
Milk Frothing
Milky drinks can be a really comfortable treat. A coffee machine can come with a milk frothing option to automatically froth the milk for you. This will save you time and energy when making your perfect beverage. This function is found on bean to cup models and some pump or pod machines. If you would rather froth the milk yourself, you should keep an eye out for the more traditional steam wand function. This allows you to froth your milk separately and then add it to your drink. For single pod coffee machines, you can also purchase milk pods that are added separately and will dispense frothy milk straight into your cup of coffee.
Personalisation
Coffee machines with this function or a memory function can allow you to pre-set your settings to suit your own preferences. By setting this, your machine will dispense a certain amount of coffee at a certain strength, so that your favourite cup of coffee is consistently great.
Smart Technology
Advancements in technology now mean that some coffee have smart features. These functions allow you to control the machine from an application on your smart phone or other smart device.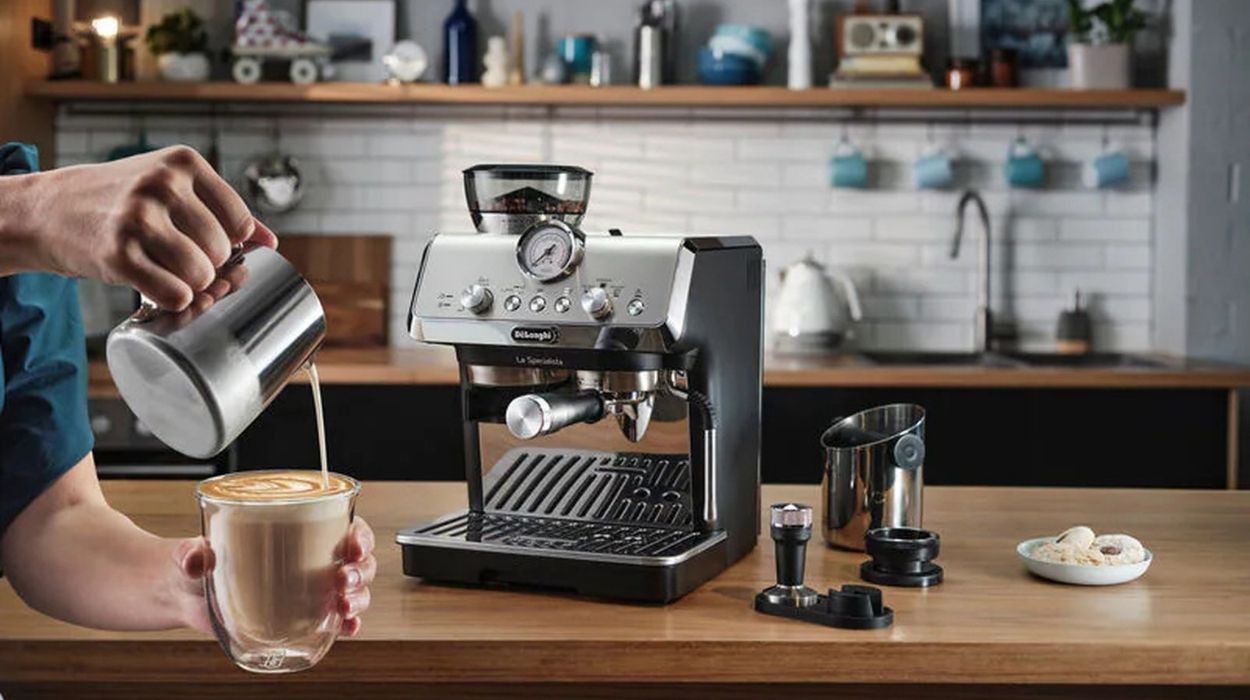 Brands
With such a large range of appliances to choose from, we've made a list of some of our most trusted brands that have been proven to provide high-quality products.
Recent Posts
In the realm of kitchen appliances, the American fridge freezer stands out as a symbol of spaciou …

To buy a wood-fired pizza oven is to buy a culinary masterpiece that has stood the test of time. …

In recent years, the world of audio technology has experienced a transformation, and one device t …