Why the Ninja Dual Air Fryer is a Kitchen Must-Have
In the heart of Ireland, as the autumn winds sweep in and the leaves take on a golden hue, the culinary world buzzes with anticipation. Halloween is not just about costumes and tricks but also about treats, feasts, and delights.
As families gear up for the festive season, there's one kitchen companion that's increasingly taking centre stage: the Ninja Dual Air Fryer. But why has this appliance garnered such adoration, and how can it transform your Halloween culinary creations? Journey with us as we explore the magic of air frying and how the Ninja foodi max dual-zone air fryer is redefining healthy cooking.
A Brief on the Increasing Popularity of Air Fryers
Air fryers, in general, have been a revelation for many, offering a healthier and more efficient method to achieve that crispy perfection we so often crave, more than that they have drastically reduced how much cooking time it takes to prepare your meal, giving you double the amount of time to enjoy your delicious food instead.
In Ireland, with our growing health-conscious community, the demand for kitchen appliances that align with our dietary aspirations has risen – and the Ninja Air Fryer perfectly fits the bill.
Health Benefits
The Ninja foodi max dual air fryer stands out not just as a large capacity air fryer because of its sleek design and efficient performance but also due to its promise of healthier cooking.
Unlike traditional frying methods that require a substantial amount of oil, the Ninja uses a convection air fry mechanism, circulating hot air to cook food evenly, giving you the same taste as deep-fried food but much healthier. This drastically reduces the amount of oil needed, ensuring that your meals are both crispy and healthy.
User-Friendly
For those who aren't kitchen aficionados, fear not. The Ninja max dual-zone air fryer is remarkably user-friendly. Its intuitive cooking program, and the perks of the "ninja dual air fryer 9.5l" size, plus its countdown timer makes daily cooking a breeze. Whether you're a seasoned chef or someone just starting their culinary journey, this appliance is bound to become your best companion.
Top Features and Cooking Modes of the Ninja Dual Air Fryer
The Ninja Air Fryer isn't just a pretty face. It's packed with features that make it a standout choice for those in Ireland and beyond.
The Dual Advantage
The "ninja dual air fryer 9.5l" isn't named 'dual' without reason. This dual-zone air fryer allows you to cook two different dishes simultaneously without mixing flavours.
This means you can prepare your main course and side dish at exactly the same time, a convenience that's hard to beat.
Versatility in Cooking
With a range of cooking modes at your disposal, the possibilities are endless. From air frying to roasting, reheating, and even dehydrating your food from excess moisture, the Ninja has got you covered.
Its versatility is a testament to its design, making it one of the top choices for many in "ninja dual air fryer Ireland".
Special Mention: Popularity in Ireland
It's worth noting how the Ninja dual-zone air fryer has gained a dedicated following in Ireland. Its adaptability to various Irish dishes and faster cooking time, combined with its efficiency, has made it a favourite.
Whether you're preparing traditional meals or experimenting with global cuisines, the "ninja air fryer dual" ensures perfection every time.
Tasty and Healthy: Air Fryer Recipes for Every Meal
Cooking with the Ninja foodi max dual-zone air fryer isn't just about health; it's also about savouring every bite. Here are some ninja air fryer recipes you can whip up: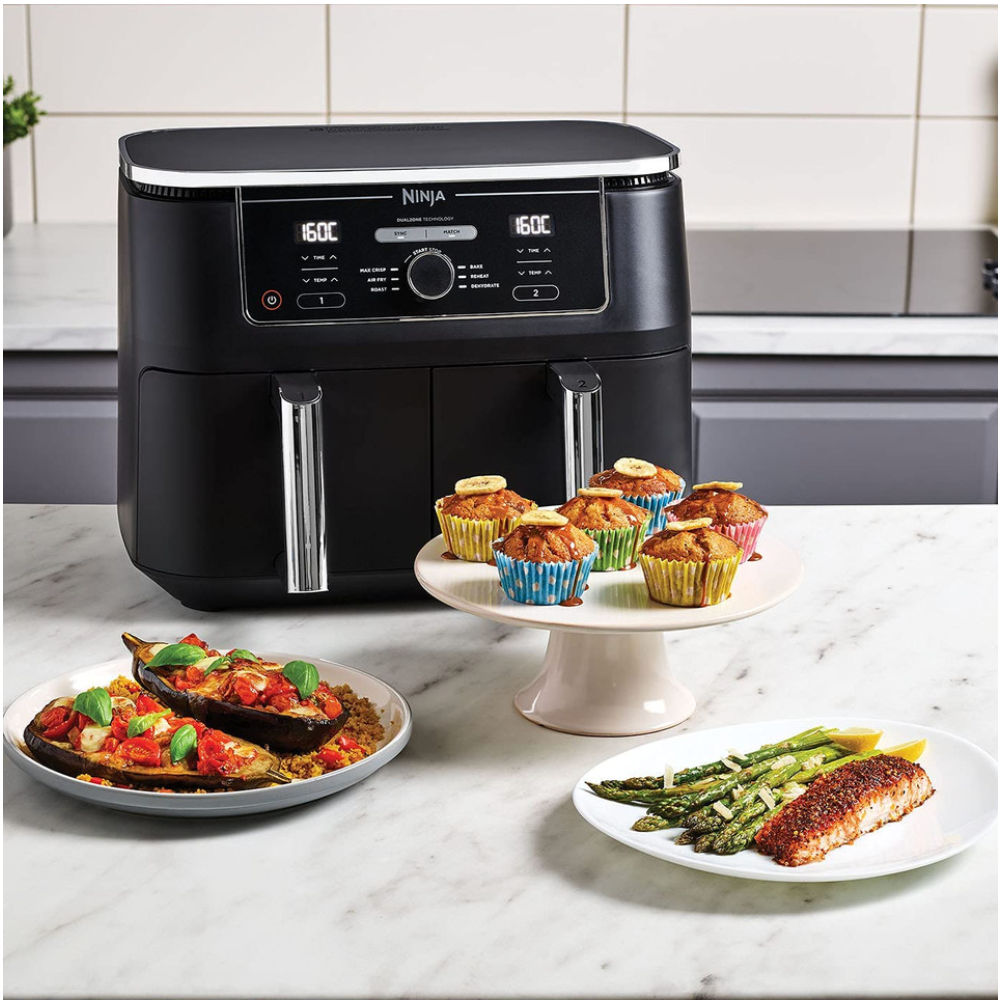 Breakfast Delights: Air-Fried Sweet Potato Hash Browns
Ingredients:
4 large sweet potatoes, grated
2 tablespoons olive oil
Salt and pepper to taste
Optional: Fresh herbs for seasoning
Instructions:
After grating the sweet potatoes, place them in a cloth and squeeze out as much liquid as possible.
In a bowl, mix the sweet potatoes with olive oil, salt, pepper, and optional herbs.
Preheat the Ninja foodi max dual zone air fryer to 200°C.
Place the potato mixture in the fryer in a single layer.
Air fry for 10-15 minutes, flipping halfway, until they are golden and crispy.
Lunch: Crispy Salmon Fillets
Ingredients:
2 salmon fillets
1 tablespoon olive oil
1 teaspoon lemon zest
Salt and pepper to taste
Instructions:
Rub the salmon fillets with olive oil, lemon zest, salt, and pepper.
Preheat the Ninja max dual zone air fryer to 180°C.
Place the salmon fillets in the fryer basket.
Air fry for 10-12 minutes until the salmon is cooked through and has a crispy exterior.
Dinner: Vegetarian Falafels
Ingredients:
400g canned chickpeas, drained and rinsed
1 small onion, chopped
2 cloves of garlic, minced
2 tablespoons fresh parsley, chopped
1 teaspoon ground cumin
1 teaspoon ground coriander
2 tablespoons all-purpose flour
Salt to taste
Olive oil for brushing
Instructions:
In a food processor, combine chickpeas, onion, garlic, parsley, cumin, coriander, flour, and salt. Process until smooth.
Shape the mixture into small patties.
Preheat the Ninja foodi max dual air fryer to 190°C.
Brush the falafels with olive oil and place them in the fryer basket.
Air fry for 15 minutes, turning halfway, until golden and crispy.
Halloween Special: Ghostly Mozzarella Sticks
Ingredients:
8 mozzarella sticks
1 cup bread crumbs
1/2 cup flour
2 eggs, beaten
Salt and pepper to taste
Instructions:
Coat the mozzarella sticks in flour, then dip in beaten eggs, and finally roll in bread crumbs seasoned with salt and pepper.
Preheat the Ninja foodi max dual zone air fryer to 190°C.
Place the coated mozzarella sticks in the fryer basket.
Air fry for 8-10 minutes until golden and slightly oozy.
Serve with a side of marinara sauce and use olives or capers for "ghostly" eyes.
These are just a few of the dishes you can easily make with your Ninja air fryer. There are countless delicious recipes you can air fry ranging from roast pork chops, and delicious chicken wings, cooking vegetarian food, easily cook pasta bakes, sweet potato hash, reviving leftover pizza, making fish fingers and so much more!
You don't have to keep eating the same food over and over again because of being too lazy to cook. The Ninja large-capacity air fryer has got your back with a booklet that comes with many cooking instructions for your convenience.

Cleaning and Maintenance Tips for Your Ninja Air Fryer
One of the many reasons the Ninja foodi max dual zone has been embraced by Irish households is its ease of maintenance. To ensure longevity and optimal performance, here are some handy tips:
Daily Cleaning
Just like any other kitchen appliance, regular cleaning is key. After each use, ensure that you remove and wash the cooking baskets.
Thankfully, the Ninja Dual Air Fryer's baskets are non-stick dishwasher-safe parts, making this task a breeze. Wipe down the interior with a damp cloth to remove any residual oil or food particles.
Dealing with Sticky Situations
Every now and then, you might encounter stubborn food residues. In such cases, fill the cooking pot with warm soapy water and let it sit for about 10 minutes. This should soften the residue, making it easier to scrub off.
Storage
Your "ninja dual air fryer 9.5l Ireland" deserves a special spot in your kitchen. While it's designed to be robust, storing it in a clean, dry place will help maintain its pristine condition. Moreover, make sure the cord is neatly wrapped and isn't subjected to any undue stress.
Ninja Air Fryer vs. Other Air Fryers: What Sets It Apart?
In a market flooded with kitchen gadgets, why is the Ninja Dual Air Fryer often the preferred choice in Irish kitchens?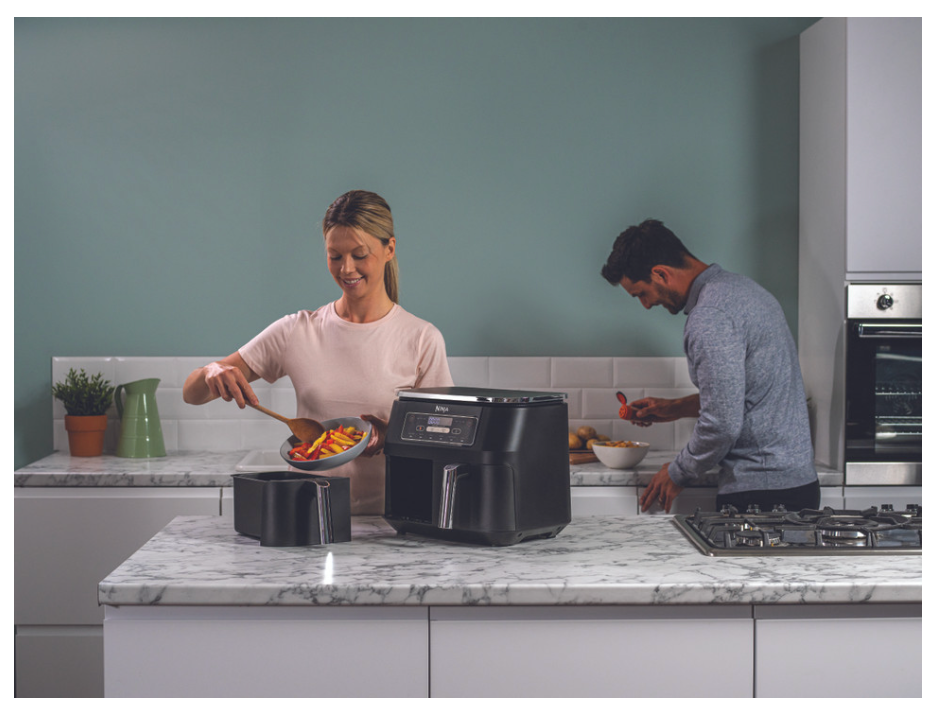 Build and Design
The Ninja is not just an efficient performer; its sleek design also makes it a kitchen showstopper. With its compact footprint and stylish aesthetics, it complements any kitchen decor seamlessly.
Performance Metrics
Drawing from "Ninja Air Fryer Reviews", one can easily discern its superior performance. It is super hot air heats up rapidly, cooks food uniformly, and its dual feature is undoubtedly a game-changer, allowing for multi-tasking which other fryers might not offer.
Real Feedback
Perusing through various reviews, it's evident that Ninja stands out in the eyes of its users. From its simple user interface to the consistent results it delivers, it's a hit among both seasoned cooks and kitchen novices.
The Future of Air Frying: Innovations to Watch
With the max dual-zone air fryers setting high standards, what can we anticipate in the future of air frying?
Technological Advancements
The world of air frying is just heating up. In the future, we might see smart air fryers with AI integration, learning your preferences and auto-adjusting cooking times and temperatures.
Green Cooking
One of the significant "Air Fryer Benefits" is its eco-friendliness, consuming less energy than conventional ovens and traditional frying methods.
Future iterations might focus even more on sustainability, with energy-saving features and eco-friendly materials.
Global Trends
As the health wave sweeps across the globe, the demand for healthier cooking methods, like air frying, is bound to soar.
And with Ireland being no exception, we can expect even more innovative and efficient air fryers to make their way to our shores.
Conclusion
Halloween is a time of celebration, of embracing the spookiness and fun that comes with it. However, it's also an opportunity to gather around with loved ones, sharing stories, laughter, and of course, food.
The Ninja Dual Air Fryer, with its incredible features and efficiency, ensures that the dishes you present not only tantalise the taste buds but also imbue a sense of warmth and well-being. After all, isn't that the true essence of any festivity?
As the Halloween night draws closer and the eerie moonlight shines upon Ireland, ensure your kitchen is equipped with the best.
For those eager to bring home this culinary wizard, Appliances Delivered awaits with the perfect Halloween treat: the Ninja Dual Air Fryer.
Click and collect in-store or schedule for same-day delivery. Make your celebrations crispy, healthy, and truly memorable!
Recent Posts
Dublin's culinary landscape is rapidly evolving, and with it, the demand for innovative kitchen a …

When it comes to choosing a washing machine in Ireland, the options can be overwhelming. With a rang …

As the chill of November settles in, the buzz of Black Friday reverberates throughout Irela …