Microwaves are excellent appliances for cooking and reheating food. They are much quicker, compact and energy-efficient than a traditional oven as well. They are perfect for simple meals and are essential for active households which require a quick and easy way to provide meals.
Microwave Fits
Freestanding
A freestanding microwave can be placed anywhere and are very easy to move around. This versatility makes freestanding microwaves ideal for households that want flexibility.
Built-In
A built-in microwave is integrated into a kitchen unit. Integrated microwaves are great for giving a modern look to your interior design.

Microwave Types
Standard Microwave (AKA Solo Microwave)
Standard microwaves are very convenient. They are great for defrosting food, reheating meals or making a quick snack.
Combination Microwave
Combination microwaves have many functions such as grilling and other types of cooking types. Again, these are quicker than conventional ovens and are more versatile than a standard microwave.
Microwave Size
The capacity of microwaves can vary from anything between 17 and 44 litres. An average family would use between 20 and 27 litres, however more capacity means that you have more space to cook more dishes at once.
Measuring For A New Microwave
Measure the height, width, and depth of the space where you wish to have your microwave. Allow for a few centimetres at the back and sides to allow for it to be plugged in. Freestanding microwaves do not have any set dimensions but should still have enough space to sit wherever you wish. Standard built-in microwaves are typical 60cm wide with 45-60cm of depth. It is still important to double-check this prior to purchasing your new product. Compact built-in microwaves are normally 50cm wide with 29-39cm of depth. Again, this should be checked beforehand just to make sure. Don't forget to measure the height as well and make sure there is space for your appliance to be plugged in.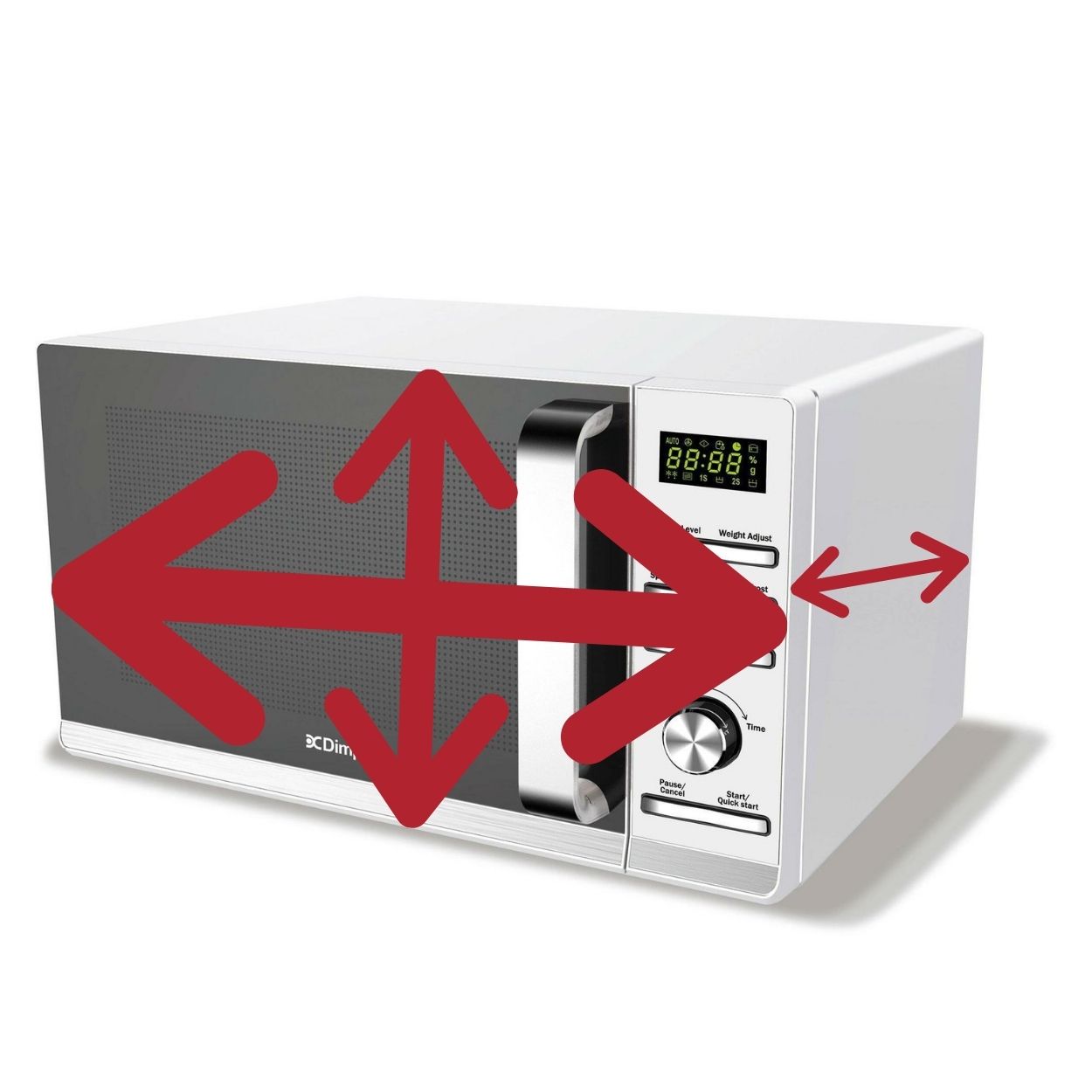 Microwave Power
Microwaves are measured in watts. A higher wattage means that your food will cook quicker and more evenly than lower wattage. Generally, wattage will fall between 700W and 1200W. For reheating food, a microwave with an 800W or 900W is ideal. However, if you are looking to purchase a combination microwave, it is better to look for a microwave with over 900W.
Turntable or Flatbed Microwaves
Turntable microwaves rotate your food to ensure its even cooking. Flatbed microwaves offer even cooking without the rotations. Flatbed microwaves are generally found in microwaves with larger capacity as the turntable would make it difficult to fit more food in.
Colour
Dark colours are easier to keep clean, while bright colours can make the environment look bigger. Stainless steel microwave ovens are very durable and are able to give your kitchen a modern feel whilst withstanding wear and tear. Brighter colours are great making your kitchen appear bigger, but these are more difficult to keep clean.

Other Considerable Features
Grill Function
If your microwave oven has a grill function, like this Hotpoint Microwave, it opens up more opportunities for cooking. With this feature, you can crisp and brown the outside of your food, which is a texture that standard microwaves generally don't give.
Defrost
The defrost setting is useful if you don't have time to let your frozen food thaw out. Some microwaves have an automatic defrost function which can alter the microwave settings depending on the type of food.
Sensor Cooking
Speake of automatic features, a sensor cooking function has the ability to detect the humidity and moisture levels of the food in your microwave. It then adjusts the cooking time and ensures that your food is not overcooked. No more need for guesswork when it comes to microwave cooking or reheating times!
Pre-Set Programmes
With similar benefits to the sensor cooking feature, pre-set programmes eliminate the need for guesswork. Microwaves with this feature have buttons for popular foods. By pressing the button, the microwave will use a pre-set time and power setting for that food-type.
Self-Cleaning Technology
Auto-cleaning microwaves use catalytic or pyrolytic cleaning which can absorb grease and dirt. This will keep your microwave keep and safe for use without any hassle.
Brands
With such a large range of machines to choose from, we've made a list of some of our most trusted brands that have been proven to provide high-quality products.
Whirlpool
Bosch
Dimplex
Fisher & Paykel
Miele
Recent Posts
Dublin's culinary landscape is rapidly evolving, and with it, the demand for innovative kitchen a …

When it comes to choosing a washing machine in Ireland, the options can be overwhelming. With a rang …

As the chill of November settles in, the buzz of Black Friday reverberates throughout Irela …